Year Planner Standard Sizes
Print & Delivery Costs
Please contact us for 2023 prices

Get a Custom Year Planner Quote
Most popular Year Planner Sizes
Tinstar Sub-B1 Planners (914mm x 660mm / 36″ x 26″)
A1 Year Planners (841mm x 594mm / 33.1″ x 23.4″)
A2 Year Planners (594mm x 420mm / 23.4″ x 16.5″)
---
Artwork Costs
Artwork Design & Setup: £80 + VAT
Addition of Custom Dates: £40 + VAT

When we design your custom year planner we will follow your brand guidelines as closely as possible, as well as implement any specific requirements you might have. Your year planner will be created using your company's corporate colours, logos and fonts**.
Our artwork fee covers everything from customising your planner with your company logo, colours and fonts to adding supplied photos, illustrations or ad panels. All images*** including photos, logos or illustrations must be supplied to us in a suitably high resolution, press-ready format. If you'd like any custom dates added to the calendar to further personalise your promotional year planner, we charge for an additional 30 minutes of studio time.
**We have an extensive, licensed font library at our disposal. However, if we need to purchase a license for a specific typeface in order to complete your artwork, there might be an additional fee – but we'll make sure you know about this before any invoice is submitted.
***It is essential that all graphics supplied have had appropriate licensing purchased or permission obtained for their use (if applicable). It is soley the responsibility of the client to ensure that all images that appear in a printed or digital product created by Tinstar Design Ltd are being reproduced legally and without infringement of copyright.
Get a Custom Year Planner Quote
---
Paper Size Guide
Click on the image to view a guide to international paper sizes. Our sub-B1 size is the largest year planner that we are able to produce – it's approximately 7.3cm wider and 6.6cm taller than the A1 size.
This downloadable infographic gives an indication of the 'real world' comparative dimensions of standard paper sizes, as well as lots of information about high and low resolution measurements.
Get a Custom Year Planner Quote
---
Tinstar Planners are professionally designed year planners which come in quantities of 100 upwards. Customized year planners can really help businesses looking for a cost effective way of reaching new and existing clients with a practical, highly visible advert. By giving your potential customers a year planner, you'll be putting a huge, memorable advert in front of them every single day of the year. If your clients find it useful, they'll want another the following year and will stay in touch.
The bottom line? Year planners are useful, popular and a great way to advertise your business. Call us on 01590 679490 to discuss or order your 2023 promotional year planners.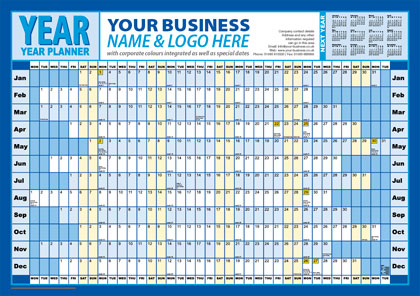 Top